6 min read
How You Can Travel The World For Free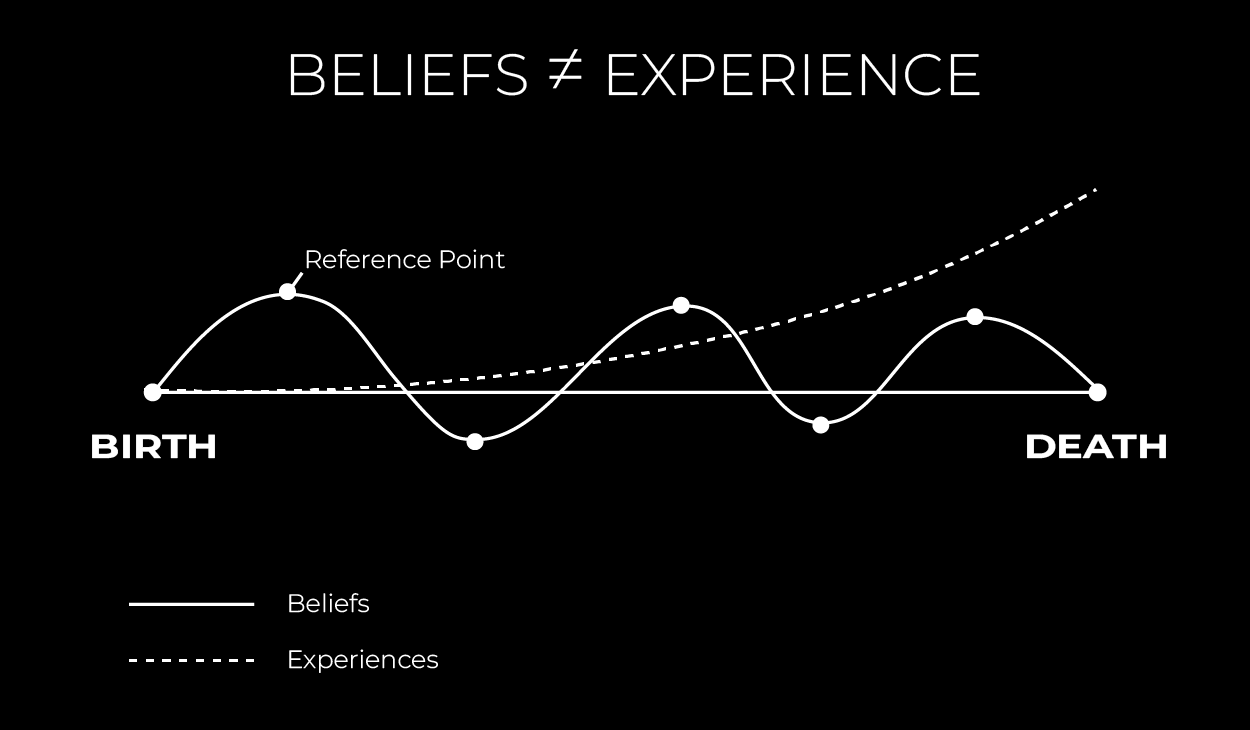 There's an opportunity brewing for those with location independence... and if you're now part of the remote working community, chances are you want to enjoy your new freedoms.
Travel companies took a massive hit, which means an even larger opportunity...
... for those that know how to find and act on leverage.
Been a remote entrepreneur for awhile now?
I'm going to show you how to start traveling for free (well, as a direct result of expenses you're already incurring).
If you've already made your 9-figure exit…
… stop reading and go enjoy your *PJ all-day lifestyle - I see you!
*Seems to be a common pattern in what I've been thinking about lately…
</THE PSYCHOLOGY>
Before we take a deep dive into utilizing credit card travel hacking we must dispel a myth.
Debt is not bad.
Credit is not bad.
Leverage is not bad.
Yes, there is good and bad debt.
Credit cards are notorious for being 'bad debt'... not because they are, but because people buy liabilities, not assets with them.
But you're different.
You're in a very small percentage of extremely intelligent people who understand they can get what they want in a fraction of the time by leveraging other people's money (OPM)... and playing a game of point accumulation in the process.
In my last newsletter, Why You're Confusing Wealth for Self-Worth, I spoke about compound interest being the 8th wonder of the world.
Well this works for banks as well… and is why credit can be costly.
I'm not saying you must pay your cards off in full every month… but you MUST be able to cash flow them.
If not, you'll have bought a one-way ticket to bankruptcy.
If this is already over your head, pause here and watch this masterclass in economics.
The Economic Machine by none other than the legend himself, Ray Dalio.

</THE SYSTEM>
The process for utilizing credit, accumulating points, and redeeming at the highest point per dollar ratio is quite simple.
To begin, you have to choose the right vehicle.
The 'vehicle' consists of what's known as Credit Card Stacking. Stacking is bundling cards to unlock bonus categories, travel partners, and reward programs.
For 99.9% of you reading this (assuming you own a business), the best possible move you can make is what follows.
Stack the following personal credit cards from Chase Bank.
Stack the following business credit cards from Chase Bank.
Let me preface this with the fact that you need to be able to spend $25,500 in 90 days to get the total benefit in one go.
If you own a revenue generating business and are running ads… this should be no problem. If you're not, stretch out your spending by applying for each card separately over the course of *6-12 months.
*The points don't expire.
– – –
Buckle up, because here's how I use this incredible machine…
Let's start with the business credit cards.
Say you're spending $10,000/mo on advertising.
The INK Preferred offers 3x points per dollar on social media ad spend...
... meaning you'll be getting 30k points per month ON TOP of the 100k Bonus.
Sum Total Points After 90 Days = 190,000
All other expenses get charged to the INK Unlimited which offers 1.5% cash back (in the form of points). If you only spend the $6,000 minimum to get the bonus you'll have accumulated 99,000 points. ($6k spend at 1.5% + 90,000 bonus points).
*Key point here is that if you don't 'Card Stack' you won't be able to transfer the points to another card to redeem at a higher percentage for travel... and will be stuck redeeming for cash back.🤢
Sum Total Points After 90 Days = 289,000
The best part of all this is that you'll have spent this money anyway. Now you've got 1-2 months of all expenses paid travel in the bag.
**I had roughly 400k points when I set off for my 3 month trip.
Now let's dive into the personal credit card side of things.
When applying for a new personal credit card I try to find things I'm already spending money on. This way I can transfer the payment to the new card.
This can be things like rent, car payment, eating out, planned vacations, etc.
*Yes, you can pay for all these things with credit cards…
... you may need to get a little creative (PayPal, Venmo, Zelle, etc).
Let's say your rent is $2,000 and you're charged a $75 fee for paying with a credit card.
You can put 2 months on the Sapphire Reserve and 1 on the Freedom Unlimited.
This will get you both bonuses and not cost you anything more than you'd have already spent.
Reserve Total Spend = $4,150 which equates to 64,150 points (bonus included)
Unlimited Total Spend = $2,075 which equates to 23,112 points (bonus included)
Sum Total Points After 90 Days = 376,262
*If you are a Sole-Proprietorship (in the US), or the business is in your name you'll be able to have all these accounts under one login.
But wait… there's more.
Remember how I said you must stack credit cards to get the most out of the rewards programs?
Well, here is where the magic happens.
When you redeem travel through the Sapphire Reserve your points are worth an extra 50% more.
This means your 376,262 points are now worth 564,363.
To put this into perspective, here's what some cost estimates utilizing points.
1 Night in a 5-Star Hyatt Hotel = 9,000 - 25,000 Points
1 Round Trip Flight (Domestic) = 20,000 - 40,000 Points
1 Round Trip Flight (International) = 50,000 - 120,000 Points
We've only cracked the surface...
... but you can see how powerful this strategy is for designing the lifestyle of your dreams; all from what you're spending already.
</THE TECHNOLOGY>
But when should I use the points?
All this requires is a simple If/Then question...
If I can get more value for my points by booking within the Chase Ultimate Rewards platform, I do. If I can't, I transfer the points to the travel partner (Airline or Hotel) and book through them.
My approach is that I almost always pay for my flights with money and book all my *hotels on points. This equates to (because of the bonus points earned when paying for travel with my credit card) 2 - 3 point nights per international flight booking.
*I'm a Globalist with Hyatt Hotels and I get incredible bonuses this way.
Plus, all my nights count toward keeping my status for the following year.
In addition, there are often *specials where you can transfer points from Chase Ultimate Rewards to your favorite partner for a bonus.
*A great resource for staying up to date on redemption specials is to follow The Points Guy.
You're only limited by your imagination here.
Hope this helps you start to see more of this beautiful planet we get to call home.
5 WAYS TO SEE THE WORLD WITHOUT BREAKING THE BANK
1. USE CARD STACKING
Discussed in depth in this issue of Inputs Only.
It's this foundation that allows you to extract the greatest value from your points.
To use this strategy you must first remove the belief that debt is bad. In a future edition I will discuss the *Infinite Banking strategy.
*You will rethink everything you've ever known about finances.
If you don't want to utilize Chase Bank, you can do this with the American Express Platinum & Gold (both for Personal & Business accounts)... though their reward program is nowhere near as good as Chase Ultimate Rewards.
Stack your cards
Stack your credit
… and start playing the leverage game.
2. KNOW YOUR REWARD CATEGORIES
This should go without saying, but I'll say it anyway.
Make sure you're spending on the cards that have the proper reward categories.
Ex. If you book a hotel, don't get 1.5% back with the Chase Freedom.
Book it on the Sapphire Reserve or INK Preferred and get 10x points per dollar.
This way a $1,000 hotel stay will get you 10,000 points… which equates to 1 free night for every 4 booked.
If you travel A LOT like I do, it's nothing more than cycling through paid for and redeemed nights.
3. BOOK 2-4-1 FLIGHTS
A little known yet effective strategy to save even more on flights is to book 'stopovers'.
Not all airlines offer this, but a handful do and should be used whenever possible.
As an example, I flew to Phoenix from Johannesburg via London on my way back from Africa.
I booked through British Airways and chose a stopover in London...
... because I knew I wanted that to be my jumping off point for the European leg of my trip.
Rather than thinking of it as a layover, I requested my stopover be for 75 days.
This means I booked one connecting flight but it counted as two because I spent the better part of 2.5 months exploring Europe (starting in London).
Not only did this save me roughly $1,250, it gave me a 'departing' flight from Europe so I never got in to trouble entering a country without a flight... something you must be cautious of for visa on arrival (VoA) locations.
With my long haul flight home in the bag, all I had to do was focus on short trips within the EU via *Train.
*I booked an unlimited EuroRail pass for < $500.
4. TRANSFER TO REWARD PARTNERS
You can often get an even bigger bonus often by transferring your points to the travel partner.
If I was to book a hotel stay with Hyatt through Chase Ultimate Rewards I wouldn't:
Get Credit For The Nights Toward Status (as they're booked through a third-party)
Get The Best Price For Those Nights ($400/nt is 40,000 points or 15,000 if booked through Hyatt)
There Is Often Issues Confirming Status Eligibility On Third-Party Booked Stays
Sometimes it makes sense… most of the time it doesn't.
When in doubt, transfer and book.
5. STICK TO ONE BRAND
I don't have status with any specific airlines because I book flights based on convenience, not price.
What I do though is ALWAYS stay at a *Hyatt Hotel.
*It doesn't have to be a Hyatt…
I'm biased because of my status and believe they're the best in the business.
Being a Globalist comes with some incredible benefits like:
Complimentary Welcome Amenity ($50+)
Complimentary Suite Upgrade ($500+/nt)
Complimentary Breakfast ($50+/nt)
Waiver Resort Fees ($35+/nt)
4pm Checkout
... and a few more.
Loyalty pays off in all aspects of your life.
Choose one brand, stay consistent and start exploring!
---
When you're ready, here's how I can help you:
1. Still looking to gain business traction... Start with an affordable course or community:
→ The Mindful Marketing Method: Learn how to make, market and monetize online courses, coaching and communities. This comprehensive course is exactly what I used to make my first $500k online and was previously sold for $8,900. -- Join here.
→ Align Academy: More than a mastermind... It's a community for entrepreneurs looking to acquire the skills our society profits off of you not having. Specifically for those determined to live life at the highest level. -- Join here.
2. Apply for hyper-personalized 1:1 coaching (SME or Solopreneurs). -- Join the waitlist.
Systems For Health, Wealth & Personal Fulfillment.
Join the legends getting an actionable newsletter every Saturday.